The Problem With InPostLinks…
Posted by Keith Lunt
Jan 26
InPostLinks might seem at first to be a great way of making money from a blog, but I struggle to see how people are making huge sums of money on it, without sitting there all day watching for ops.
First, when a good opp appears there is a bit of a mass charge to be one of the lucky bloggers to be allocated a slot in that opportunity. If you manage to get one (and you can tell that such opportunities are about as the entire system slows down) then you have to write 200+ words on your blog around the keyword given.
If the opportunities paid well this would not be an issue, however on the whole $0.50 and $1.00 opps are frequently what is on offer. And that is not much for writing 200 words on a PageRanked blog, remembering that the T&C also say that you must have a non-paid opp either side of the paid opp.
Wondering exactly what the problem is? Maybe for USA bloggers there are more better paid opps, but being in the UK there isn't much, and look at the screen print below of the status when I logged on today. Near enough a page full of this sort of opp. And this is on an account with PR2 & PR3 blogs…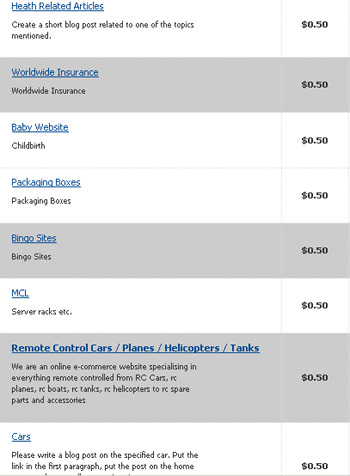 If you want to keep up with our latest posts, just follow us on our RSS feed, join our weekly newsletter or follow us over at Twitter. Please do join in - it is totally free and only the best posts are passed to you!
Also, leave a comment below. We are a 'DoFollow' blog, so it is well worth your time. Thanks for calling in.